fitness
2022 Badger Cove Half Marathon
Running up and down the green hills of Del Valle Park. 13.1 miles, 2,300 feet of climbing, halfway to my goal.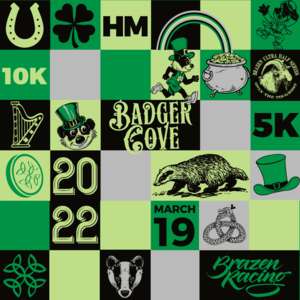 I think it's fair to say that I'm on a quest for the goat coaster.  On March 19th, I ran my third qualifying event for the Brazen Racing Ultra Half series, the Badger Cove Half Marathon at Del Valle Regional Park.  I started the day at 5 am with a hearty breakfast of peanut butter and banana toast, an egg, and coffee, filled my water bottle with Nuun sports drink, and hit the road for the hour-plus drive to Livermore.  In my last trail half, I got hungry around mile 9, so I wanted to make sure I had a relatively big meal in the morning this time around.  In addition to breakfast, I ate a Clif bar about a half hour before the start time.  The sports drink was another change in my routine; I felt like water wasn't working well for hydration and have had good luck with Nuun on long bike rides.
I arrived in plenty of time, and started the race with the rest of the half marathoners at 8 am.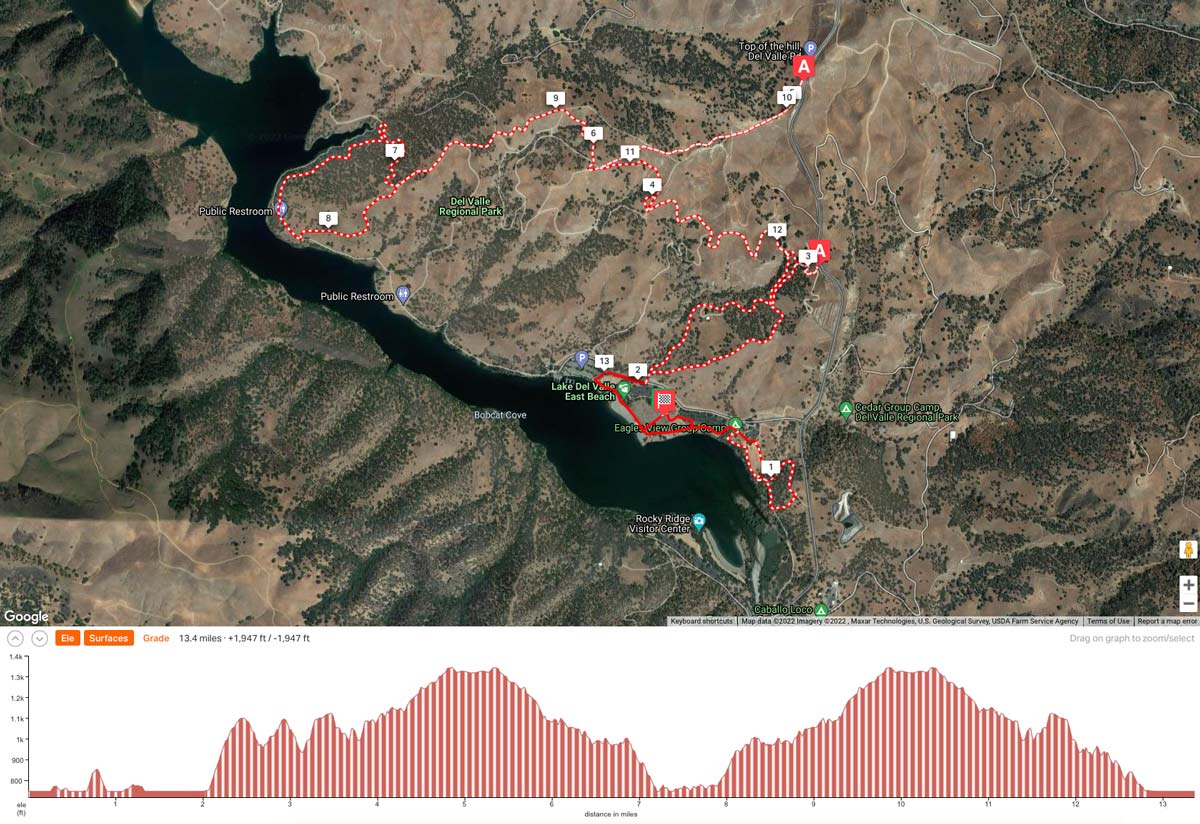 The first little loop was a nice warm-up before we headed up into the hills at mile 2.  The trail was fairly wide, which gave us room to get sorted out by pace.  As usual, I walked the uphill sections, starting at mile 2.  I was careful to keep my pace under control on the downhills.  I'm still feeling the effects of my fall and ankle sprain that happened in November (!) and don't want a repeat of that particular injury.  I didn't have any specific goals coming into this race other than finishing and collecting my t-shirt and medal.  When my watch buzzed to mark mile 6, I looked at it and saw that I'd been running about 65 minutes.  I thought, "I'm almost halfway done.  I could finish this thing in 2:20".  For comparison, I ran Summit Rock in 2:38 and Auburn in 2:49.  I knew I still had to climb back up the elevation I had just cruised down, but I also remembered that the race ended on a long downhill.  I came up with a plan: I would continue to take it easy on the ascents but start jog/walking when I felt able, and would start to push a little bit more on the descents to see if I could pick up some time.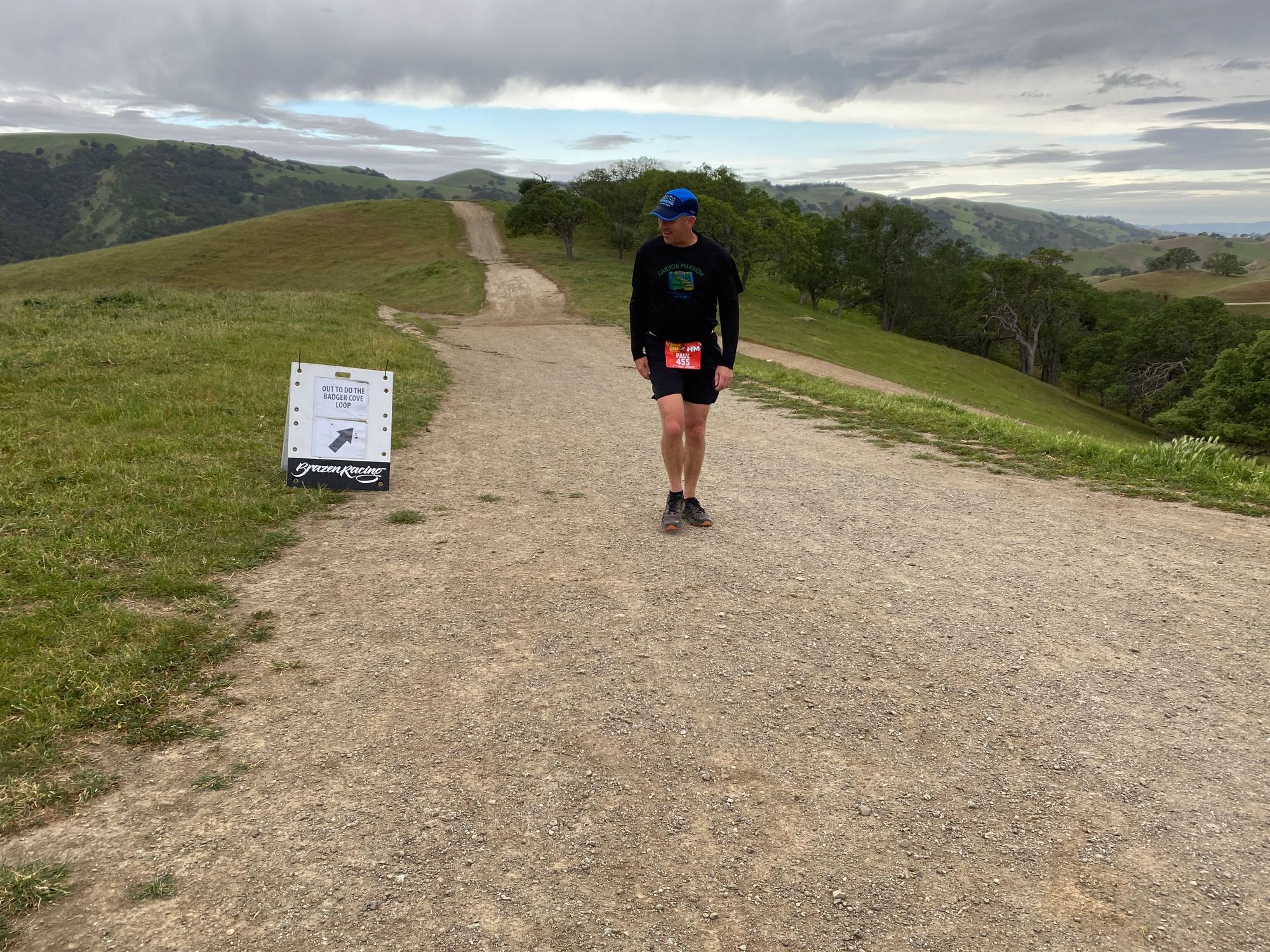 Around mile 8 we got a bit of rain, sprinkles really, but it provided me with some motivation to finish before the weather turned wet.  In the second half of the course, the climbing began to get to me.  My quads felt weak, and my Achilles was starting to throb a bit.  I had brought Naproxen and an ankle brace along just in case, so I took the tablets and waited for them to kick in.
Starting around mile 10, I noticed that I was leapfrogging this guy: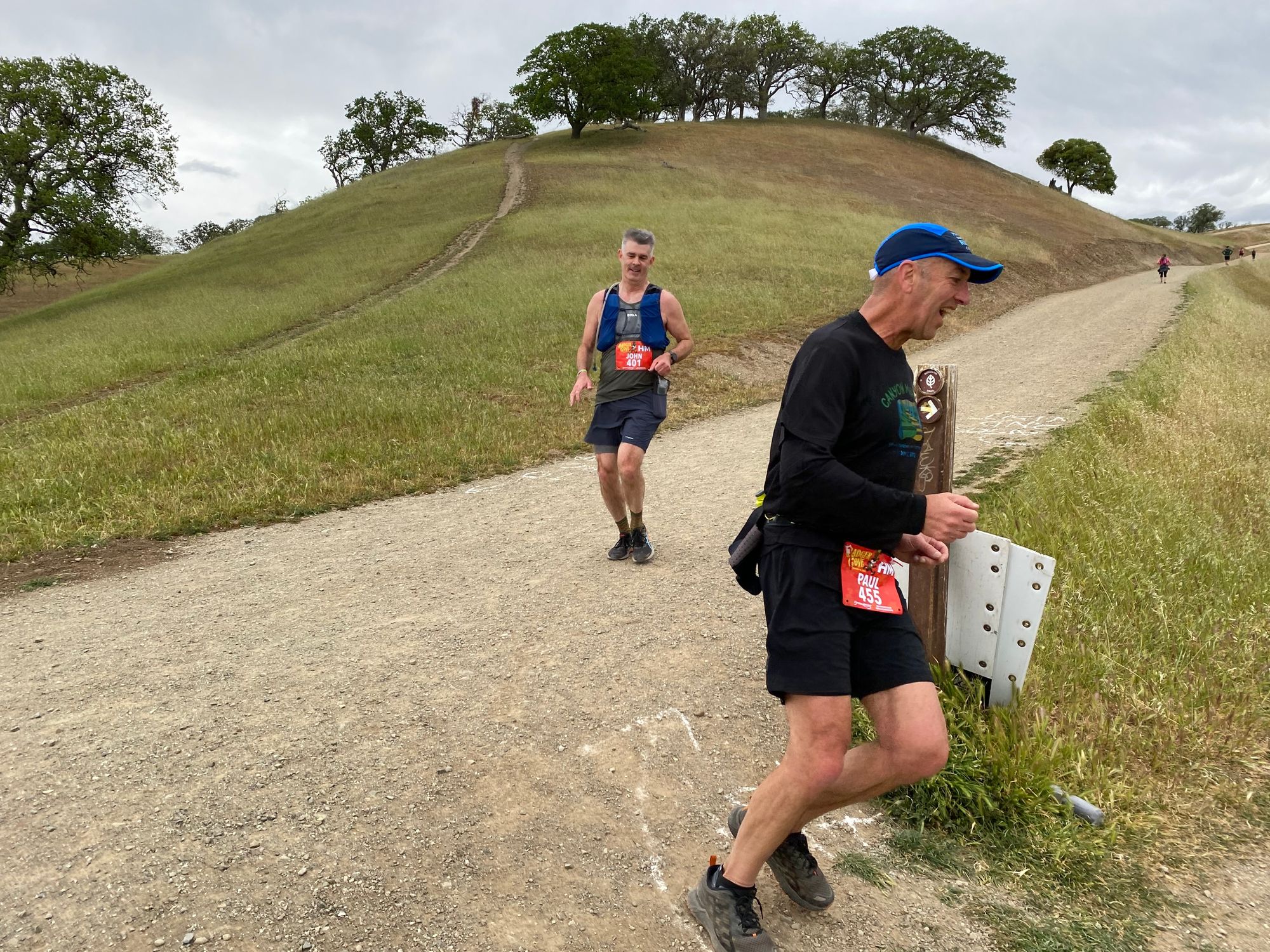 He looked like he was probably in my age group (50-54).  After passing and being passed a couple of times, I set another goal for myself: I was going to try to keep up with him and finish ahead of him if I could. Normally, I'm not competitive at these events, but it occurred to me that if he got third in the group and I didn't try to get ahead of him, I'd be mad at myself for not putting in the extra effort to pass him before the finish.  I was able to keep him close for about a mile, then within sight for a while, but eventually lost him as he was able to run up the remaining hills that I had to walk.  I pushed my pace over the last mile and closed the gap to about 20 seconds.  He crossed the finish line first, and after I finished, I walked up to him and gave him a fist bump and a smile.  Who knows if he felt like he was racing me?  Even though I didn't pass him, I was stoked to see that I finished in 2:20:04!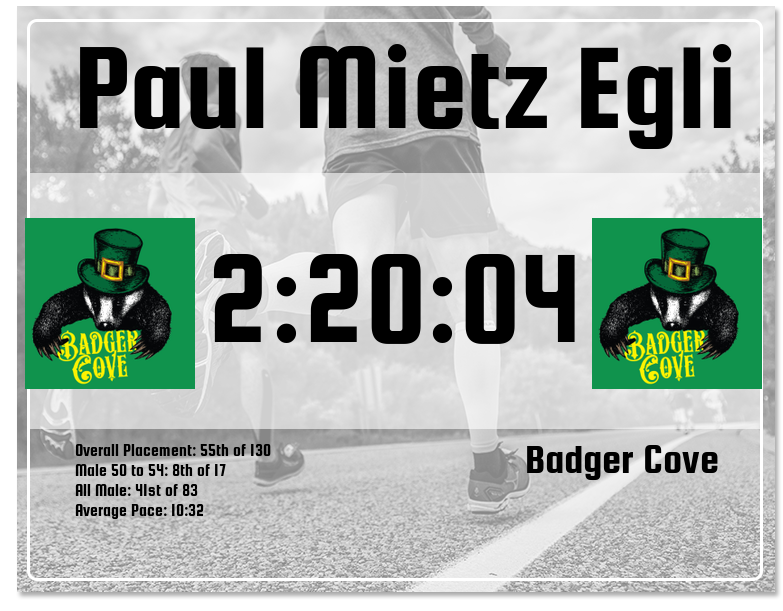 I wasn't anywhere near the top three in my age group – I would have had to run over 20 minutes faster to get there – but I was still glad that I tried to empty the tank at the end of the race.  It was good to get practice at managing my energy throughout the run so I had the ability to kick later. I'm happy with where I placed overall and in my age group, actually.  I'm solidly in the middle of the pack, which is fine with me.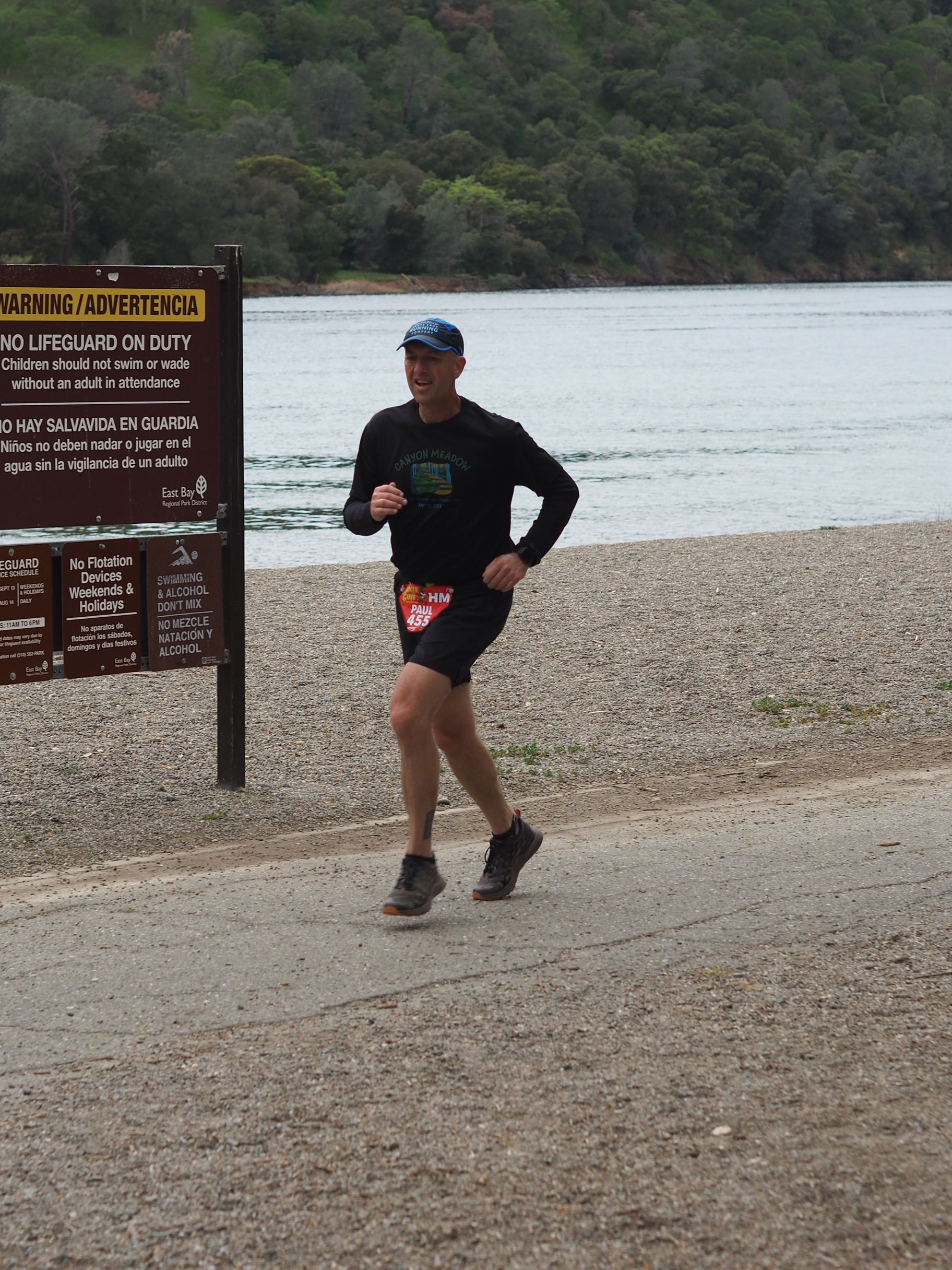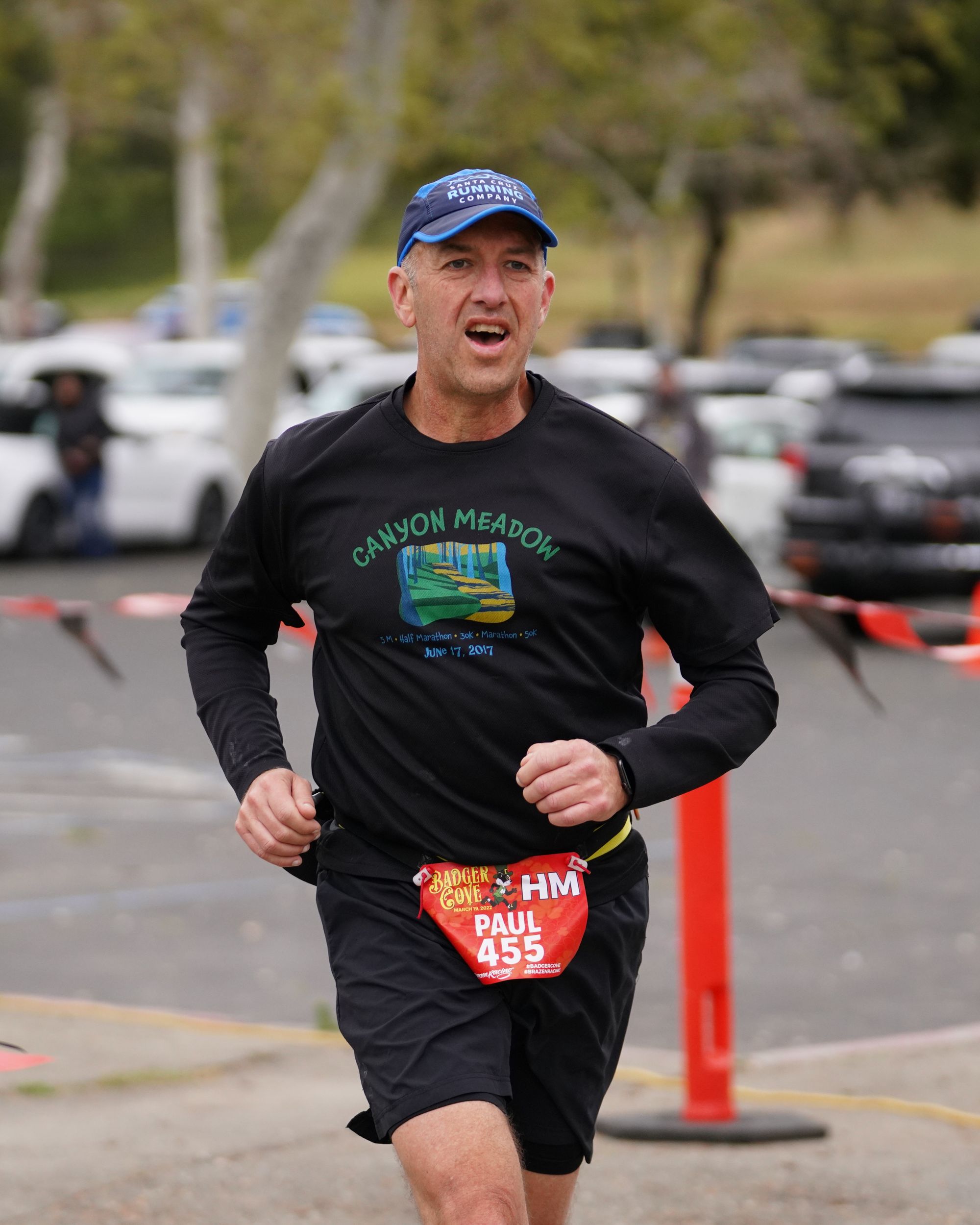 Heather left this message for me the morning of the race: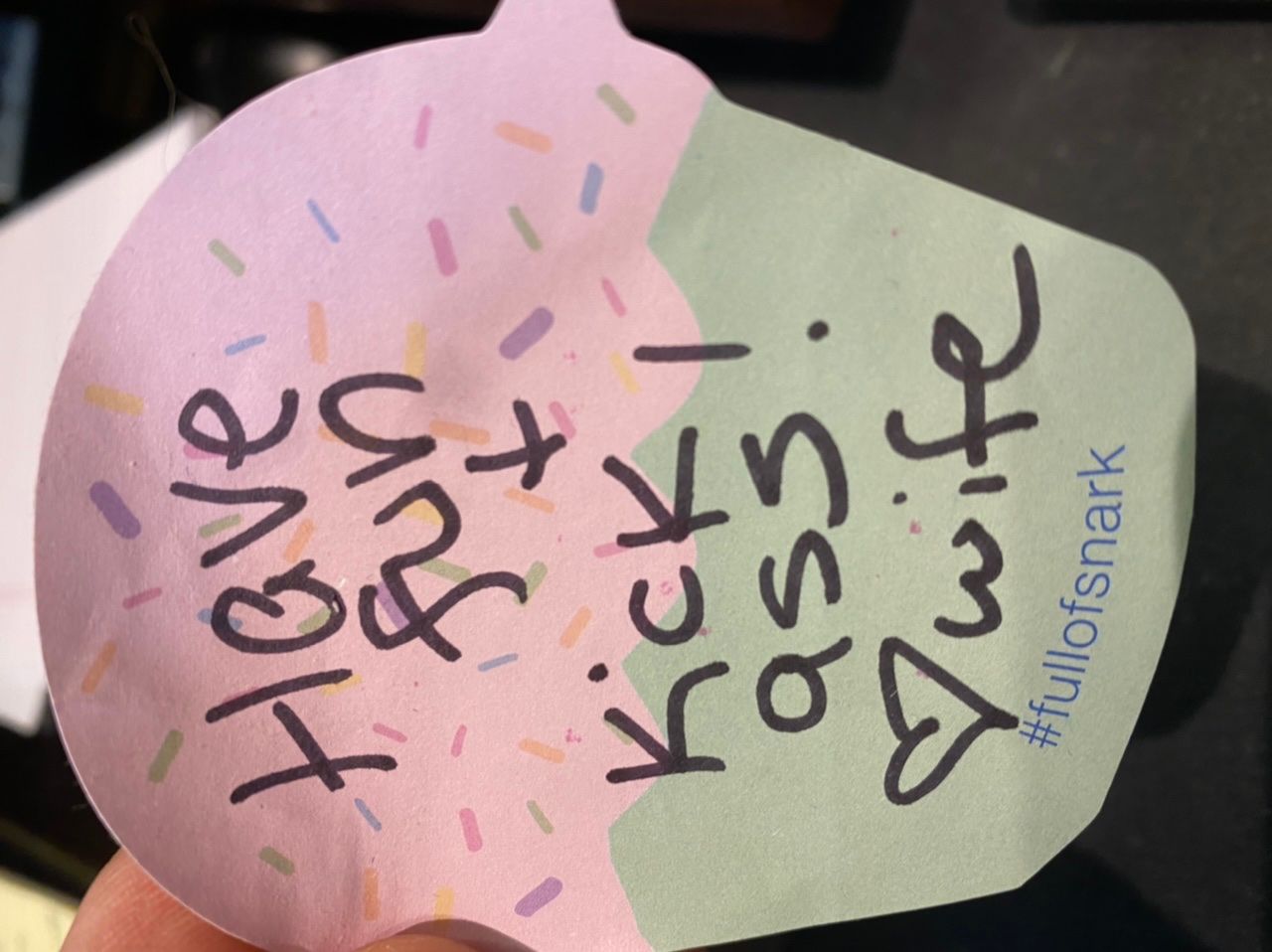 And I did!