fitness
2022 Wildcat Half Marathon
There are some big hills east of Berkeley! The climbs were tough but the views from the top were worth it. Four out of six trail halfs in the bag!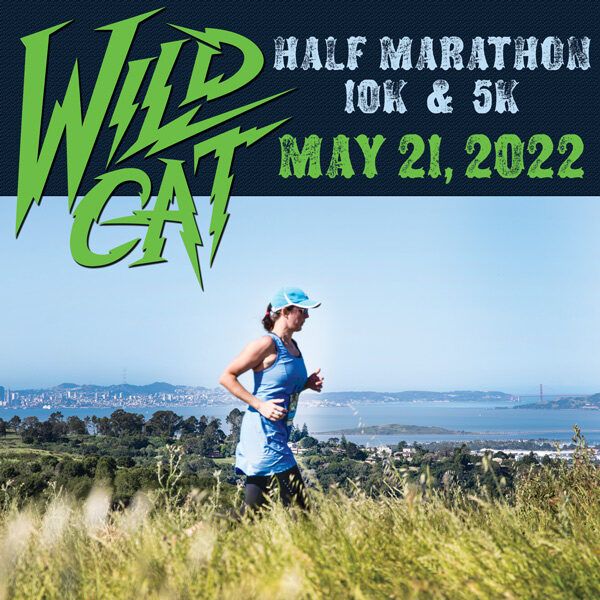 The weather is warming up and race mornings are becoming much more pleasant.  No more shivering in the dark waiting for the starting horn!  On May 21st, I ran the Wildcat Half Marathon in El Sobrante.  The race was held in Wildcat Canyon Regional Park, a lovely area of hills and canyons just north of Tilden Park.  It is a 90 minute drive from Santa Cruz, so I woke up very early, had a bleary breakfast, and left the house around 5:45 am.  I kept my routine for this race the same as last time: the Elvis breakfast (peanut butter and banana on toast plus a boiled egg) with coffee, same Salomon trail shoes I've been running in all season, Nathan hydration belt, and naproxin.
My soundtrack for the trip was the "New Wave Essentials" playlist on Apple Music.  We went to the Cruel World Festival the weekend before and I was still soaking in the experience of seeing Devo, the Violent Femmes, PiL, and Bauhaus.  I smiled when "I Ran (So Far Away)" inevitably started playing.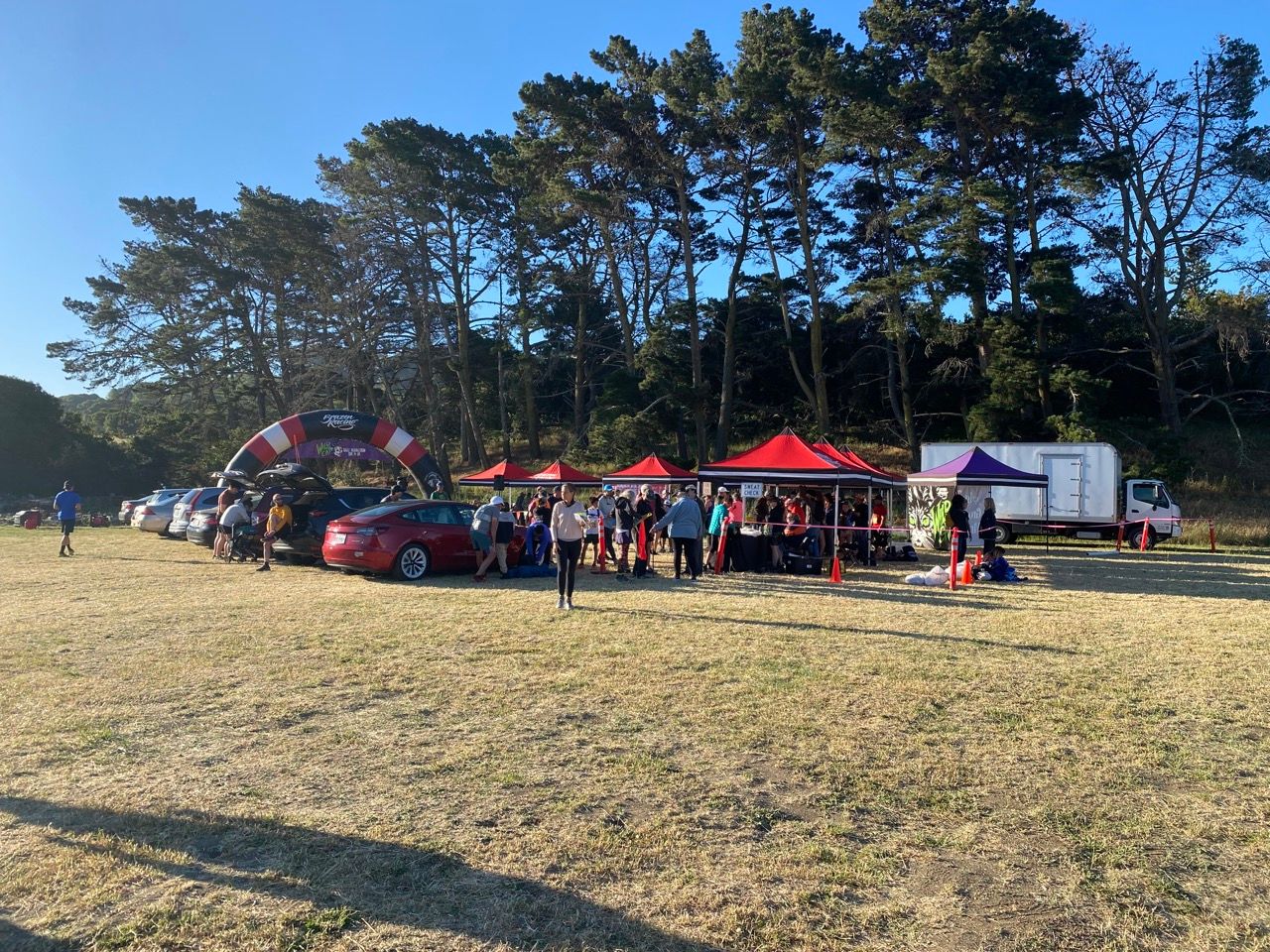 I arrived at Wildcat Canyon Community School with plenty of time to spare.  It was kind of strange to be parking on the lawn, but I couldn't complain about the walk to the starting line, as it was all of 100 feet away.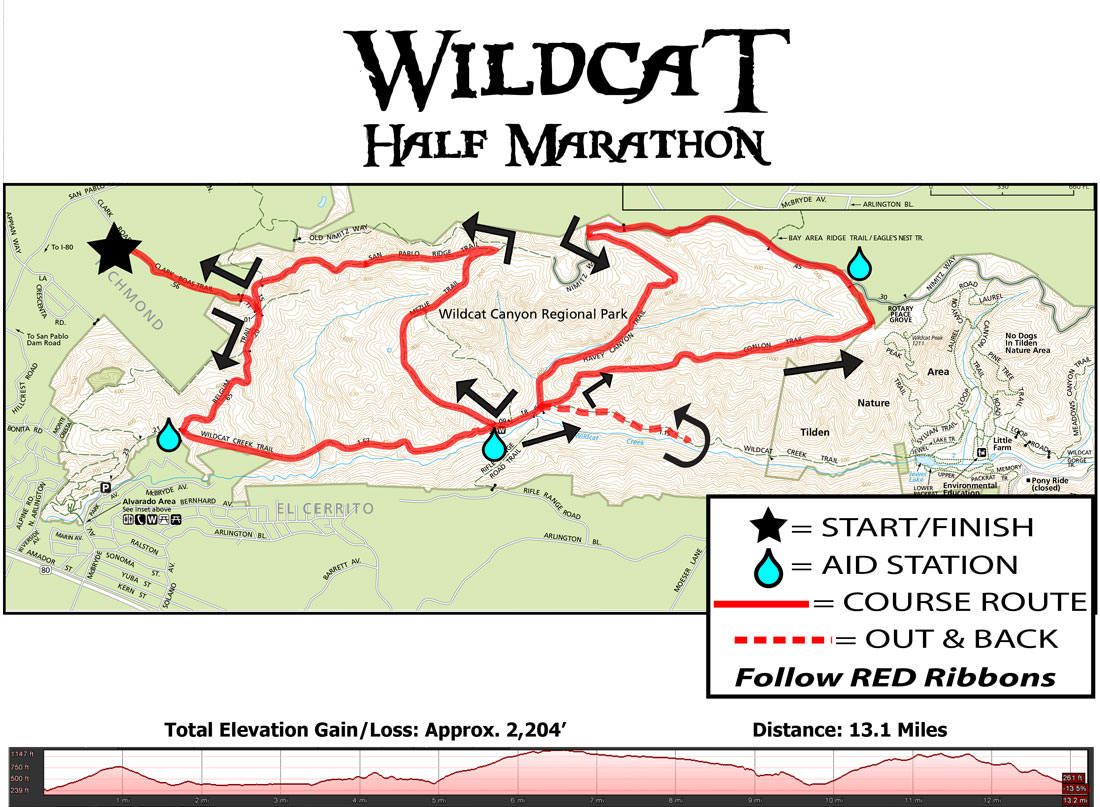 I had studied the elevation map for the course and was prepared for two main climbs at about miles 5 and 10.  The path was reported to be mostly gravel or dirt with a few sections of fire roads.  Not much single track in store today, but that was fine with me as I'm still favoring my left ankle a bit and didn't want to put too much stress on it.
After that first climb, the initial three miles were fast fast fast!  My splits for miles 2 and 3 were 8'11" and 8'35".  Those sections were asphalt, which is what I run on regularly.  I was feeling great and happy to be outside.
The first climb at mile 5 was tough, not so much due to the steepness but because it was long.  I walked up, of course, saving my energy for those later miles.  As you can see behind me, the view was spectacular.  At this point in the course, we were looking out over the East Bay and could see forever.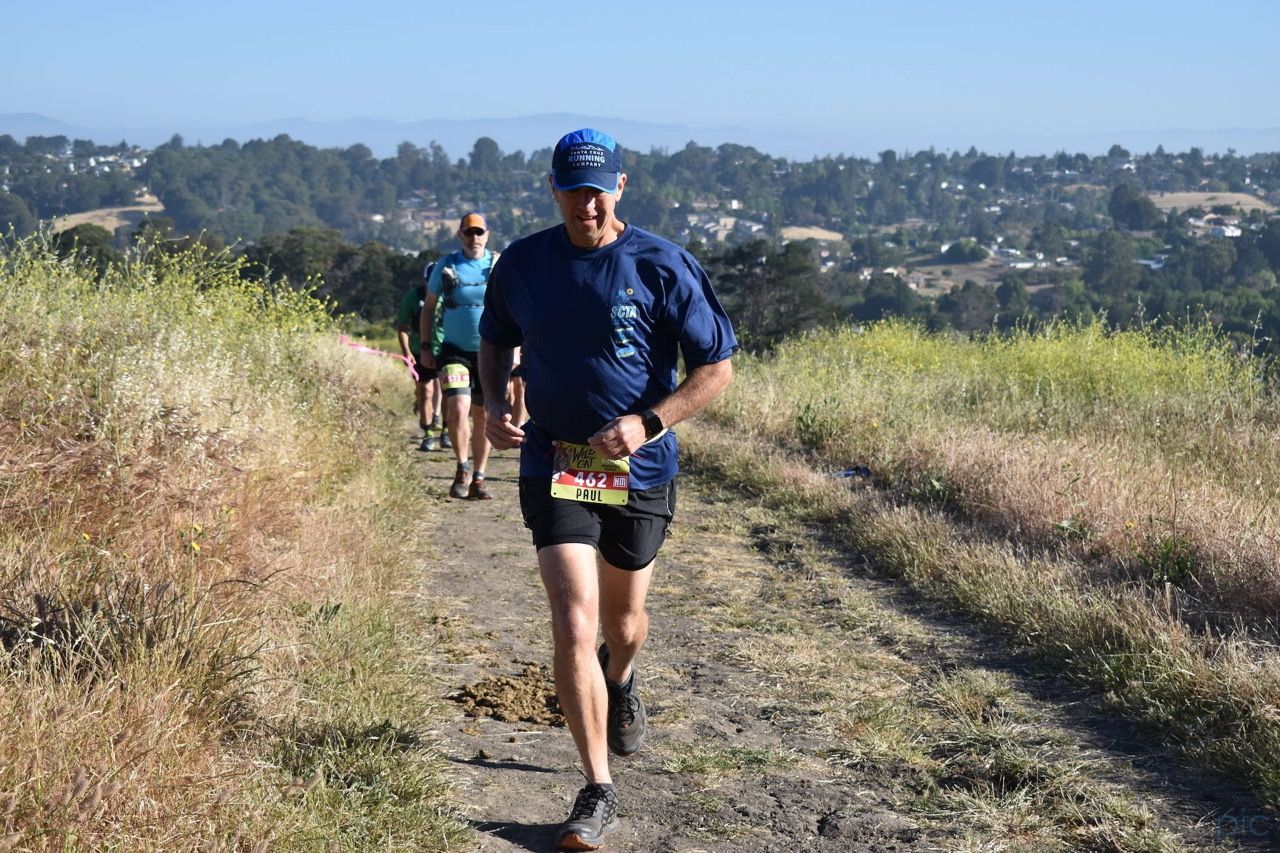 When I hit mile 9, my quads reported in that they were not entirely happy with me.  It wasn't so much that I was in pain; more that those big muscles felt heavy.  I slogged up the mile 10 and 11 climb, trying to keep a good pace up and not stop.  As we came into the western loop of the course, I could see the San Pablo Reservoir and all the way to Pleasant Hill/Walnut Creek.  The wildflowers were in bloom, it wasn't too hot, and my mood started to pick up.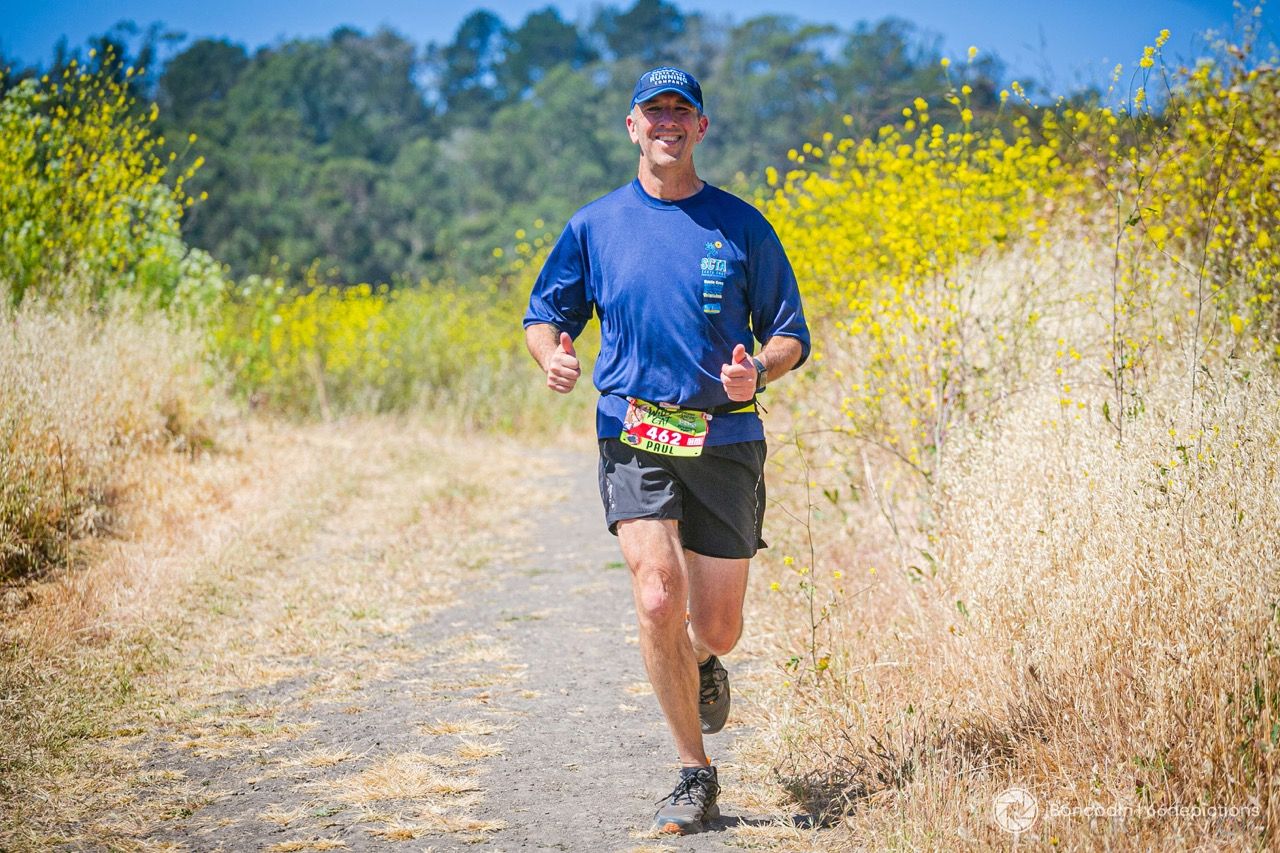 Once again, I found myself leapfrogging another runner who looked to be around my age.  He was killing it going up the hills, keeping his running pace while I was walking.  I would catch him on the downhills, though, so he never got too far ahead of me.  As we turned into the final 100 yards stretch, I was right behind him.  Somehow, I found a kick left, and I sped up.  As I passed him, I said, "Sorry, feeling competitive today!"  "No problem, it's all yours!" he replied, and I zipped across the finish line, out of breath.  We did the fist bump afterwards and he didn't seem at all bothered by my last minute surge.
After catching my breath, downing some water, and eating a bunch of carbs, I checked the results sheet.  My time wasn't posted yet.  I did see that only one other 55-59 male had come in so far, though, so it was possible that I placed in my age group.  A little later, a new sheet was posted and alas, I had come in 4th in my age group with a time of 2:28.  Skunked again! Still, it was a solid race for me and I was happy with my performance.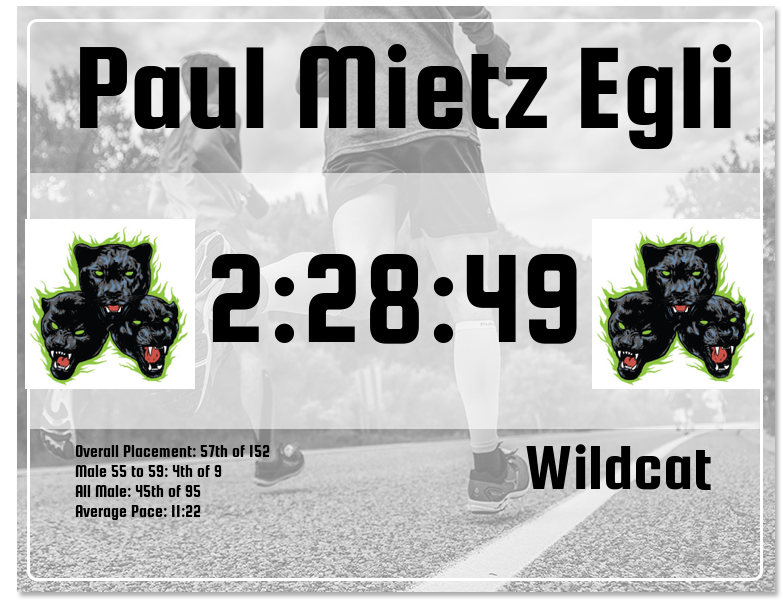 Afterwards, I took a small side trip to Fieldworks in Berkeley, where I saw at least five other runners from the Wildcat.  To the victor go the spoils!